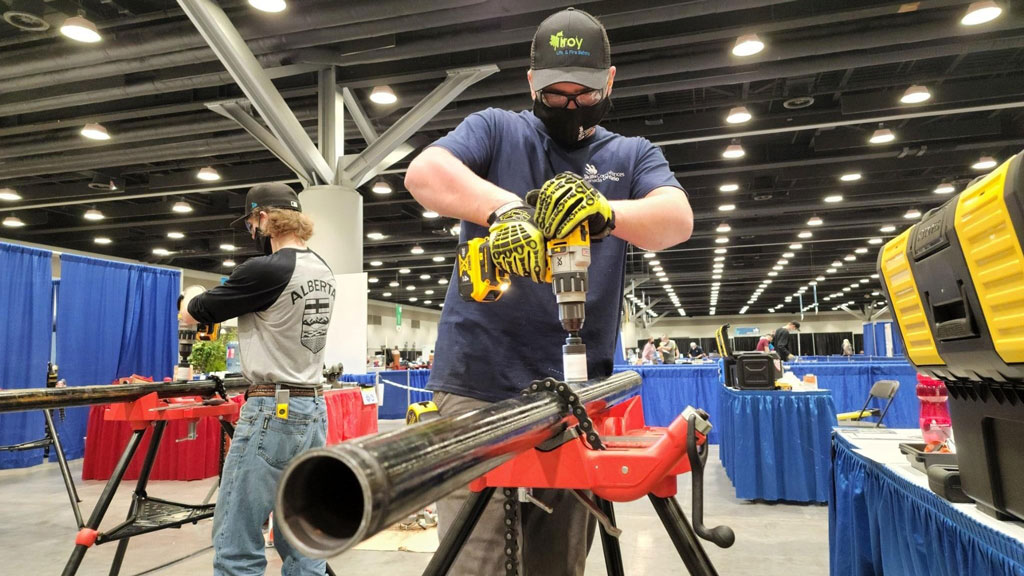 Ontario Sprinkler Fitter and Bricklayer Apprentices Win Gold at Skills Canada
Cameron Krause, 18, didn't know what to expect when he signed up to compete at the Skills Canada National Competition (SCNC) in Vancouver, but he ended up surprising himself.
Krause, who completed his Level 1 brick and stone apprenticeship at Conestoga College, won a gold medal in the bricklaying competition.
"I had an original plan in mind and stuck to it and it ended up paying off and worked out really well," Krause said.
The competition consisted of two builds in two days for six and a half hours each day.
Competitors were judged and scored on everything they did each day. On the second day, competitors were tasked with building an arch. Krause had virtually no experience building arches since that's something you learn in Level 2 of the program, he explained.
"I didn't come into the competition thinking I was going to do well," Krause said.
"I was thinking 'those guys probably have a lot more experience than me because I'm young and just got my level 1.'"
He had some advice for other students who were considering entering the competition.
"You're definitely going to surprise yourself," Krause said. "You can absolutely do whatever you want and don't count yourself too soon."
Krause started working for a masonry company a few years ago, cleaning around the shop before he started getting interested in the job itself. He decided to register as an apprentice in the Ontario Youth Apprenticeship Program last June. He learned masonry skills through the Conestoga College program.
"In school, we mostly just do bricks and blocks…That's where I learned some of the skills to help me in competition," Krause said, adding that the experience I had he learned from his colleagues at work also helped him win the competition.
The SCNC was recently held partly in person in Vancouver for the first time since 2019 and competitors and their teams agreed it was a great learning experience.
More than 300 students from across Canada were at the Vancouver Convention Center on May 26 and 27 to compete in post-secondary competitions and Team Canada selection category competitions, including more than 35 skilled trades competitions and of technology.
High school students competed virtually this year.
The competition attracted more than 200 competitors in 45 skilled trades and technology competitions.
"It was a smaller event, but the excitement was still palpable," Skills Ontario CEO Ian Howcroft told the Daily Commercial News. "It was nice to see the competition in person, the projects being created, the work in progress."
Team Ontario won 51 medals in total: 22 gold, 19 silver and 10 bronze. Seven gold medalists will be part of Team Canada for the WorldSkills competition.
Howcroft said it was a good "opportunity for young people to explore their career path and it was exciting and dynamic. It made us even more excited to see what we can do next year.
Cameron Little, an Ontario sprinkler fitter apprentice with UA Local 853 and a sprinkler fitter with Troy Life and Fire Safety, said he felt he did well in the competition, but he didn't know for sure until the results were known. He won a gold medal. in the competition.
"We had to build a steel tube frame and we had to do all the math to prove our measurements beforehand and calculate all of our angles," Little said. "The judges wanted to see us do everything exactly the right way according to the manufacturers specifications and be as safe as possible."
The contest was a good learning experience, he said.
"Everyone has their own way of doing something," Little said. "I was able to see how other people are doing things compared to what I'm used to doing."
"I would highly recommend the Skills Competition to any apprentice looking to put their skills to the test in a safe and fun environment, as well as meet new people in other trades and theirs from Ontario and the Canada," Little said. "An apprenticeship in any trade is a great way to start a successful career."
Although the students qualified for the WorldSkills competition at the event, on May 31, WorldSkills International, in agreement with WorldSkills members, the WorldSkills Shanghai 2022 Executive Board and WorldSkills China announced that the WorldSkills 2022 competition scheduled in Shanghai in October has been cancelled.
Howcroft said Team Canada and others should discuss alternate competition options for teams.
Following the national Skills Canada competition, the winners were announced at the closing ceremony on May 28. Some of the medal winners in the construction trades categories include:
Gold
Spencer Chandu-Lall, Mechanical Engineering CAO (Team Canada (TC) Qualifier) ​​— Loyalist College
Daniel Kiss, CNC Milling (TC) — Conestoga College
Cameron Krause, Brickwork (TC) — Conestoga College
Malcolm Matwijec, Heavy Vehicle Technology (TC) — Centennial College
Mark Macario, Precision Machining (PS) — Seneca College
Cameron Little, sprinkler fitter — UA Local 853
Ben Henning, Precision Machining (S)—Upper Grand District School Board
Tommy Friesen, Mechanical Engineering CAD(S) District School Board of Niagara
Ian Ketcheson, Welding (S) — Hastings and Prince Edward District School Board
Camila Feijoo, Architectural Technology @Design (S) — Halton Catholic District School Board
Rachel Driedger, Workplace Safety (S)—Upper Grand District School Board
Silver
Kian Hasson-Tehrani and Matin Zalpour, mechatronics — Seneca College
Elijah Sommers, Plumbing (TC) — UA Local 527
Ethan Kroetsch, Cabinetmaker (TC) — Conestoga College
Abigayle Hamilton and Emma Pace, Landscaper (TC) — Durham College
Andrian Movtchan, Refrigeration and Air Conditioning (TC)—Humber College
Stéphanie Savoie, Architectural Technology and Design (PS) — Fanshawe College
Maxim Goncharenko, Electronics (PS) — Seneca College
William Innes, Power Equipment and Outdoor Recreation (EP)—Centennial College
Ryder Lytle, Cabinetmaker (S) — Trillium Lakelands District School Board
Bronze
Jake Boekestyn, Welding (TC) — Niagara College
Ryan Jolley, Electrical Installations (TC) — IBEW Local 120
Mathieu Dupuis, Industrial Control (TC) — Cambrian College
Jerome Bosman, Sheet Metal (PS) — Fanshawe College
Follow the author on Twitter @DCN_Angela.